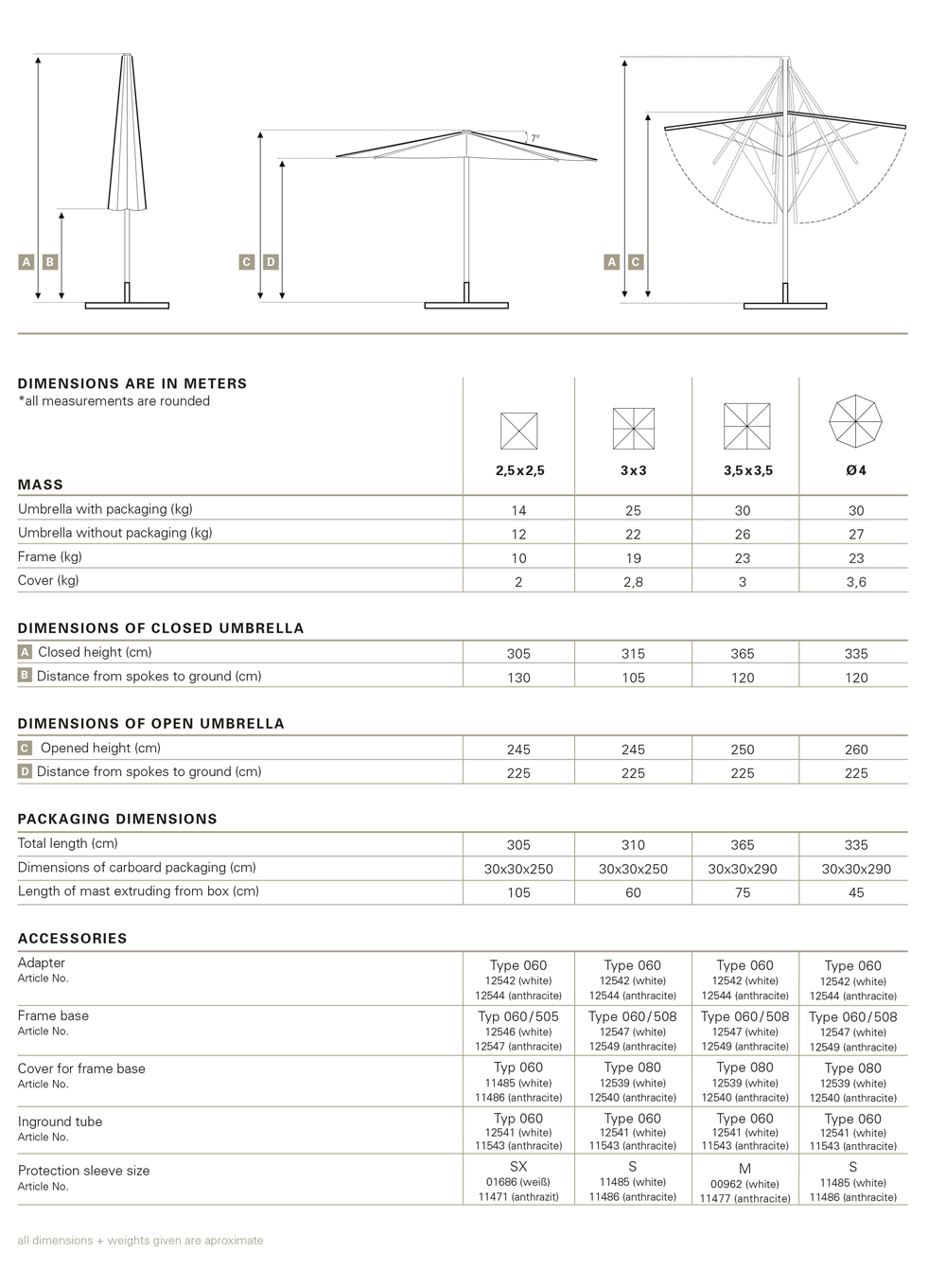 DESCRIPTION
MDT-Tex introduces a premium range of technical parasols, specifically tuned to customers that require an aesthetic touch to our wind-stable umbrellas. The new Home collection offers several advantages to our classic line including strong and lightweight extruded hubs, fabric protecting corner caps, a simpler and lighter tensioning system and sleek frame-base covers for mobile units. The new range of umbrellas set a new standard in terms of aesthetics and functionality without compromising any of the strength and quality standards that exist in our industrial ranges.
COVER
The textile cover is attached to the spoke ends by aluminium end caps and stainless steel bolts. The cover is replaceable and is fade, light and water resistant. It is designed to withstand all weather conditions.
ANCHOR
Frame base to be loaded with concrete blocks
Ground tube (type 060)
PRINTING
Digital print
Screen print
Dispersion dye print
MAST
Umbrella spokes are made of rectangular aluminium sections of 30 x 20 x 2 mm. The mast is made of a round aluminium section of 60 mm. The aluminium telescope has section dimensions of 30 x 30 x 3 mm. Strut connecting hubs are made of extruded aluminium high strength profile. All parts are screwed together and the frame, the end caps, acorn, hub and the handle (anthracite) is powder coated (Polyester powder ca. 80 μ).
White RAL 9010 (standard)
Anthracite DB 703 MT GL PE
MECHANICS
The tension mechanism of the umbrella is operated by an aluminium handle with zinc coated spring steel strap that controls an internal telescope system.
BENEFITS
Open and closes with a single hub-mounted aluminium handle
All materials are resistant to the effects of water corrosion
Telescopic pole allows the umbrella to open and close above table height
Full aluminium umbrella
Electric cables are hidden from sight within four chamber column inside the centre mast
All struts in the open state replaceable
All umbrella parts recyclable
Designed to withstand wind speeds up to 60 km/h (with the proper ground anchorage)
ACCESSORIES
LED lighting
Protective sleeve with a telescopic pole
Rain gutter to connect adjoining umbrellas (only square umbrellas)
Cover for frame base
MDT-TEX 260
(polyester, coating- polyurethane), Weight - 260 g/gsm, water column - >700 mm, spray test - 5/5, uv colour resistance - 6/8, breathability - 50 l/(dm2xmin); tear resitance warp - 2000 N, flame retardant up to B1 - DIN 4102-1, M1, NFPA 701 - Flat and Folded.
OPTIONAL MDT-TEX 300
(polyacrylate), Weight - 300 g/gsm, water column - > 350 mm, spray test - 5/5, uv colour resistance - 7-8/8; tear resitance warp - 1450 N.